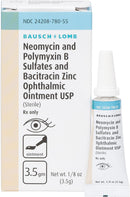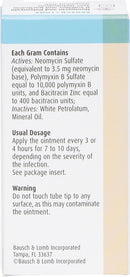 Neo-Poly-Bac is a medicated ointment prescribed to help treat bacterial eye infections in dogs. Applied directly, it treats conditions such as conjunctivitis, keratitis and keratoconjunctivitis, blepharitis and blepharoconjunctivitis to relieve irritated and infected eyes in pets. Customers may receive this drug under the name Vetropolycin.
Uses
Neo-Poly-Bac is used for the treatment of eye infections in dogs, cats & small animals; it's designed to be applied in the eye(s) and on the eyelids to treat bacterial infection and related swelling/inflammation in eyes/eyelids.
Possible Side Effects
Most pets can take this medication without any problems. Occasionally, temporary stinging has been reported. If ointment is accidentally ingested, your pet may experience increased drinking/urination. Extended use of this medication can cause infection to worsen. A serious allergic reaction is possible in some animals, particularly in cats. If your pet is acting unusual in any way while receiving this medication, call your veterinarian.
Drug & Food Interactions
Always tell your veterinarian about all other medications and supplements your pet is taking, as interactions may occur.
Precautions
Pets who are allergic to any of the ingredients should not be given this medication. If there is unhealed fungal or viral infection in the eye, this medication should not be used. Use is also contraindicated if an ulcer is present in the eye.

NOTE: For Generic Medications, picture displayed may not depict actual product. Generic medications may vary from one order to the next by size, color and shape depending on manufacturer. Customers may receive the same drug under the name Vetropolycin.
Ingredients
Active Ingredients Per Gram: Neomycin Sulfate (equivalent to 3.5 mg neomycin base), Polymyxin B Sulfate equivalent to 10,000 polymyxin B units, and Bacitracin Zinc equivalent to 400 bacitracin units.
Inactive Ingredients: White Petrolatum, Mineral Oil.
Recommended Dosage
Use as directed by your vet. Apply the ointment every 3 or 4 hours for 7 to 10 days, depending on the severity of the infection.
Storage Instructions
Store at room temperatures of 59° - 86°F
FAQ
What is Neo-Poly-Bac (Generic) Ophthalmic Ointment used for?
This medication is used to treat or prevent bacterial eye infections. This product contains neomycin, bacitracin, and polymyxin, which are antibiotics that work by stopping the growth of bacteria.
How long should I give my pet Neo-Poly-Bac (Generic) Ophthalmic Ointment?
Continue to give this medication for the full time prescribed, even if symptoms disappear after a few days. Stopping the medication too early may allow bacteria to continue to grow, which may result in a relapse of the infection.