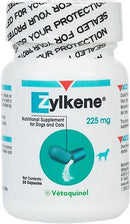 Description
Help keep your furry friend calm during stressful times with Vetoquinol Zylkene Behavior Support Capsules Small Dog & Cat Supplement 75 mg. The non-drowsy formula uses alpha-capsazepine, a natural ingredient found in cow's milk, to help balance the stress reactions of dogs and cats safely and with no tranquilizing or sedating effects. Milk-sourced alpha-capsazepine is known to promote relaxation in babies, and it works in a similar way for your pet, giving him a sense of comfort and contentment to help him cope with stress or adapt to new situations. It's perfect for most pet stressors like loud noises, visits to the vet or groomer, as well as unfamiliar people and places. Plus, it's free of lactose and preservatives, making it ideal for sensitive tummies.
Key Benefits
The only veterinary supplement formulated with alpha-capsazepine, a natural ingredient from cow's milk with calming properties to help relax cats and dogs.
Non-drowsy formula provides a sense of calm and contentment without tranquilizing or sedating your pal.
Perfect to use before or during stressful situations, including moving, adapting to new people or new places, traveling, vet visits, and behavior training.
Free of lactose and preservatives, so it's ideal for pets with sensitive tummies; used by veterinarians and animal behaviorists worldwide.
The formula comes in 75 mg capsules that can be given by mouth, or opened and mixed with a meal.
This product is intended for intermittent or supplemental feeding only. Consult your veterinarian before giving your pet Zylkene. Follow the recommended administration on the package, unless otherwise instructed by your veterinarian.