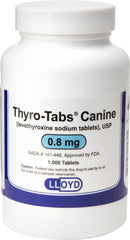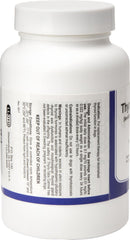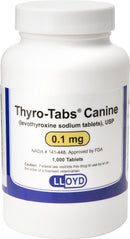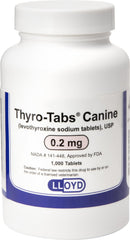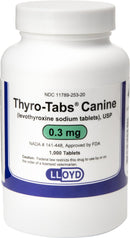 Thyro-Tabs are an oral prescription tablet that provides hormone replacement therapy in dogs and cats to treat the symptoms of hypothyroidism when thyroid production is lower than normal. Having a balanced amount of thyroid hormone is important in sustaining normal mental health and physical activity for your pets.
Uses
For replacement therapy for diminished thyroid function in dogs.
Possible Side Effects
When administered at an appropriate dose to pets requiring thyroid hormone replacement, there should not be any adverse effects associated with therapy.
Drug & Food Interactions
Interactions may occur with other medications including supplements, vitamins, estrogens, digoxin, warfarin, epinephrine, insulin or norepinephrine.
Precautions
Do not use in dogs with thyrotoxicosis or uncorrected adrenal insufficiency. Different brands of levothyroxine may not work the same. If the pills look different from the last filling, speak to your pharmacist or veterinarian. Do not use in animals with hyperthyroidism, a condition in which the body produces too much thyroid hormone. Tell your veterinarian if your pet could be pregnant, has been diagnosed with Addison's disease (hypoadrenocorticism) or has any heart problems.
Instructions
Recommended Dosage
Use this medication as directed by your veterinarian. If you forget a dose, give it as soon as possible but do not give two doses at the same time.
Storage Instructions
Store at temperatures between 68° - 77°F. Protect from light and moisture.
FAQ
What is Levothyroxine?
Levothyroxine is a medication prescribed for dogs and cats to treat conditions associated with hypothyroidism.
What are the benefits of Levothyroxine?
Treats conditions associated with hypothyroidism. Easy to administer
How is this medication given?
Orally.
How does this medication work?
Levothyroxine provides thyroid replacement therapy to pets with hypothyroidism or other thyroid conditions due to low circulating thyroid hormone.
What results can I expect?
It will not cure the thyroid condition but will relieve the symptoms. Because every pet reacts differently to this medication, your veterinarian may monitor thyroid hormone levels in the blood every 2-4 weeks while adjusting the dose. Periodic testing is also necessary.