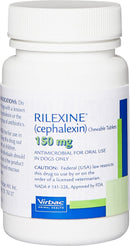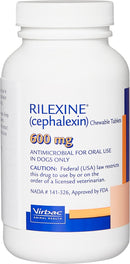 Rilexine is an oral antibiotic prescribed by veterinarians to treat urinary tract infections in dogs, as well as pyoderma—a bacterial infection of the skin. Plus, it comes in an easy-to-administer chewable tablet form that can easily be hidden in your dog's favorite food.
Uses
For the treatment of secondary superficial bacterial pyoderma in dogs caused by susceptible strains of Staphylococcus pseudintermedius.
Possible Side Effects
The most common side effects of Rilexine are gastrointestinal upset including diarrhea, nausea, and vomiting. Rilexine can cause an allergic reaction in some pets. Signs of an allergic reaction include swelling, hives, vomiting, and collapse. If your pet experiences an allergic reaction to this medication, contact your veterinarian or emergency veterinary hospital immediately.
Drug & Food Interactions
Aminoglycosides, amphotericin B, chloramphenicol, and oral anticoagulants (blood thinners) may interact with Rilexine. Other drugs may also interfere with Rilexine so be sure to tell your veterinarian about any other medications, vitamins, or supplements your pet is taking prior to giving Rilexine.
Precautions
Only prescribe antibacterial drugs when a bacterial infection is present. The safe use of this medication for breeding, pregnant or lactating dogs has not been evaluated. This medication may affect urine test results. Hematological reactions have also been observed with cephalosporin therapy including neutropenia and anemia.