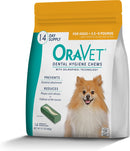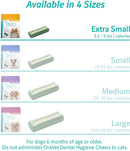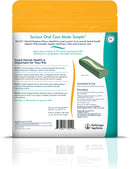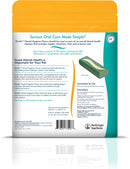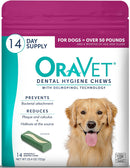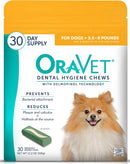 Description
The OraVet Dental Hygiene Chews for Dogs proves that daily dental care can be a positive experience for your dog! Since most furry pals hate brushing, these tasty chews deliver an alternative way to clean their mouth. The only oral care of its kind to use delmopinol, it works to loosen and dislodge plaque as your dog happily chews away. And what's more, it actually forms a barrier that protects against the bacteria that leads to plaque and calculus buildup—all resulting in fresh, kissable breath for your beloved pup. Just one per day keeps the plaque and bad breath away!
Key Benefits
Daily dental chew works to loosen and dislodge plaque to help break it away from teeth.
The only dental chews for dogs to use delmopinol, which forms a barrier that blocks bacteria and the formation of plaque and calculus.
Recommended by vets and highly dissolvable for easy digestion with a great taste that dogs will love.
Defends against new plaque, calculus (calcified plaque or tartar), and halitosis (bad breath).
Just one chew a day keeps the plaque away! At-home dental care is an important step in your dog's overall health.
Precautions
Not recommended for puppies under 6 months of age, pregnant or nursing dogs. Do not underdose; give the entire appropriately sized chew to your dog, do not cut or break as this may present a risk of choking. Do not give more than one chew per day to each dog in the household. Weigh your dog to ensure you give the appropriately sized chew. Do not give to cats. Keep out of the reach of children. Monitor your dog until the OraVet Dental Hygiene Chew is fully consumed.
Ingredients
Pork Protein, Wheat, and Soy. * Each chew contains 0.7% (wt/wt) Delmopinal HCI delivered in a proprietary chewable formulation.
Feeding Instructions
Give your dog 1 chew daily or as directed by a veterinarian.
How to Administer:
Ensure you select the appropriately sized chew for your dog.
Tear or use scissors to open OraVet chew wrapper.
Give entire chew to your dog, do not cut or break.
Monitor your dog until the OraVet Dental Hygiene Chew is fully consumed.
FAQ
My dog really likes OraVet Chews. Is it safe to give more than 1 per day?
We do not recommend giving your dog more than 1 OraVet Chew per day.
How long will it take my dog to finish a daily OraVet Chew?
Each dog chews at a different pace, so each OraVet Chew will last for a different amount of time.
Can unfinished OraVet Chews be saved for later use?
No. If left out, OraVet Chews can harden. So if your dog doesn't finish eating one, it should be thrown out.
How do I know what size OraVet Chews are right for my dog?
Dogs come in different sizes. And so do OraVet Chews. There are 4 sizes in all, for dogs 3.5 - 9 lbs, 10 - 24 lbs, 25 - 50 lbs, and over 51 lbs. Ask your vet for help if you're not sure how much your dog weighs.
Why is it important to have my dog's teeth cleaned regularly?
Like people, dogs need regular dental cleaning to remove the plaque and tartar buildup that can cause bad breath and gum disease.
I feed my dog dental diet or dental chews already. How are OraVet Chews different?
OraVet Chews have a unique dual - action mechanism that prevents bacterial attachment — reducing halitosis (bad breath) at the source. The action of chewing works to loosen and dislodge plaque to help it break away from teeth. Then, the extra ingredient, delmopinol, works by disrupting the plaque matrix and forms a barrier, preventing new bacteria from adhering to the teeth.