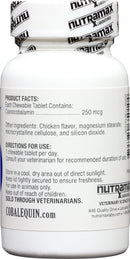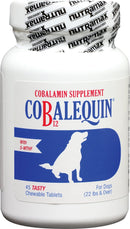 Just like us, our pets may not get all the nutrients they need from their food alone. With Cobalequin Chewable Tablets from Nutramax, you can give your pet the vitamin boost he needs. Vitamin B12—or cobalequin—deficiency is especially common in animals with pancreatic issues and can cause symptoms like weight loss, lethargy and confusion. This oral supplement can help to increase concentrations of B12 in cats and small dogs, without the need for additional injections. Best of all, it comes in an easy-to-feed, tasty tablet and can be used for long-term treatment—just make sure you talk to your veterinarian.
Key Benefits
Features an oral cobalequin supplement, so you can help treat your dog's insufficiency.
Yummy chewables are easy to feed, especially compared to pills and powders.
May help you supplement your pet without needing additional injections.
Part of a comprehensive treatment plan for dogs and cats low in B12.
Can be used long-term, with guidance from your veterinarian.
Precautions
For animal use only. Keep out of reach of children.
Ingredients
Cyanocobalamin 250 mcg
Other Ingredients: Hydrolyzed Chicken Flavor, Microcrystalline Cellulose, And Silicon Dioxide.
Feeding Instructions
1 chewable tablet per day. Consult your veterinarian for the recommended duration of use.