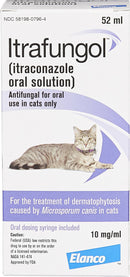 Ringworm is a very contagious infection of the skin, hair and nails of cats. Itrafungol solution is an easy-to-administer oral antifungal to help your cat combat ringworm. It comes in a cherry-caramel liquid form that's safe, effective, and flavorful enough to simplify dosing for you and your cat.
Uses
For the treatment of ringworm caused by a diseased fungus in cats.
Possible Side Effects
Please contact your veterinarian if any of the following adverse reactions occur: salivation, vomiting, diarrhea, anorexia, depression, and apathy.
Drug & Food Interactions
Talk to your veterinarian about any other drugs your pet is taking before starting this medication.
Precautions
Do not administer to cats with hypersensitivity to itraconazole. Itrafungol has not been shown to be safe in pregnant cats and should only be used in pregnant or lactating cats when the benefits outweigh the potential risks. Not for use in humans. Keep this and all medications out of reach of children. Wash hands and exposed skin after use.