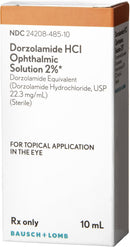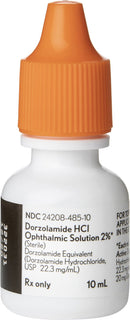 Dorzolamide is used as a treatment for glaucoma, and is often prescribed by veterinarians for use with dogs and cats. This drug contains a carbonic anhydrase inhibitor which decreases intraocular pressure, a characteristic of many types of glaucoma.
Uses
Dorzolamide HCl Ophthalmic Solution is indicated in the treatment of elevated intraocular pressure in patients with ocular hypertension or open-angle glaucoma.
Possible Side Effects
The most frequently reported adverse reactions associated with Dorzolamide HCl Ophthalmic Solution were ocular burning, stinging, or discomfort immediately following ocular administration (approximately one-third of patients). Approximately one-quarter of patients noted a bitter taste following administration. Superficial punctate keratitis occurred in 10 to 15% of patients and signs and symptoms of ocular allergic reaction in approximately 10%.
Drug & Food Interactions
There is a potential for an additive effect on the known systemic effects of carbonic anhydrase inhibition in patients receiving an oral carbonic anhydrase inhibitor and Dorzolamide HCl Ophthalmic Solution. The concomitant administration of Dorzolamide HCl Ophthalmic Solution and oral carbonic anhydrase inhibitors is not recommended.
Although acid-base and electrolyte disturbances were not reported in the clinical trials with Dorzolamide HCl Ophthalmic Solution, these disturbances have been reported with oral carbonic anhydrase inhibitors and have, in some instances, resulted in drug interactions (e.g., toxicity associatedwith high-dose salicylate therapy). Therefore, the potential for such drug interactions should be considered in patients receiving Dorzolamide HCl Ophthalmic Solution.
Precautions
Dorzolamide HCl Ophthalmic Solution contains dorzolamide, a sulfonamide; and although administered topically, it is absorbed systemically. Therefore, the same types of adverse reactions that are attributable to sulfonamides may occur with topical administration of Dorzolamide HCl Ophthalmic Solution.

This drug is FDA-approved for human use. However, it is common practice for veterinarians to prescribe such drugs for use in dogs and cats.
NOTE: For Generic Medications, picture displayed may not depict actual product. Generic medications may vary from one order to the next by size, color and shape depending on manufacturer.
Ingredients
Active Ingredients: Dorzolamide Hydrochloride Inactive Ingredients: Hydroxyethyl cellulose; mannitol; trisodium citratedlhydrate; sodium hydroxide; water; benzalko niumchloride.
Recommended Dosage
The dose is one drop of Dorzolamide HCl Ophthalmic Solution in the affected eye(s) three times daily. Dorzolamide HCl Ophthalmic Solution may be used concomitantly with other topical ophthalmic drug products to lower intraocular pressure.
Storage Instructions
Store at 68°F - 77°F. Protect from light.
FAQ
What is Dorzolamide HCL?
Dorzolamide HCL can be prescribed by your veterinarian to assist in the reduction of pressure in the eye due to high blood pressure or glaucoma.
What to do if medicine is applied more than the recommended amount?
Flush the eye with water and call your veterinarian.
How should I store Dorzolamide HCL?
Store at room temperature and protect from light, moisture, and heat.