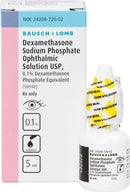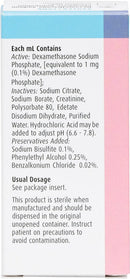 Dexamethasone is a solution prescribed to help reduce inflammation found in the eye, including pinkeye. This easy-to-use medication helps to provide relief by reducing burning and redness. Plus, Dexamethasone comes with a convenient eye dropper for accurate dosing. Customers may receive this drug under the names Azium, Dexasone, Pet-Derm.
Uses
Dexamethasone is a corticosteroid solution that is used in the eyes. It helps treat inflammation due to certain conditions, such as conjunctivitis and some types of eye inflammations.
Possible Side Effects
This medication is typically safe when used as directed, but minor side effects such as burning, stinging, itching, redness, blurred vision, or sensitivity to light have been reported. Other rare side effects include glaucoma, cataracts, and perforation of the cornea. Infection can also occur if this medication is used long-term.
Drug & Food Interactions
Before giving Dexamethasone, discuss other eye medications, oral medications, or supplements the pet is taking. Some interactions have been reported.
Precautions
Do not use in those who have a known allergy to this medication or similar medications. Do not give to those with fungal or viral infections of the eye before healing has started, or those with eye ulcers.

This drug is FDA-approved for human use. However, it is common practice for veterinarians to prescribe such drugs for use in dogs and cats.
NOTE: For Generic Medications, the picture displayed may not depict actual product. Generic medications may vary from one order to the next by size, color, and shape depending on the manufacturer.