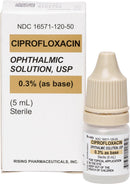 Ciprofloxacin Ophthalmic Solution is a broad-spectrum topical antibiotic prescribed to treat certain eye infections that are caused by bacteria. It works by blocking the bacteria's ability to make DNA, causing it to die out. Customers may receive this drug under the name Cipro.
Uses
Ciprofloxacin Ophthalmic Solution is indicated for the treatment of infections caused by susceptible strains of bacteria in corneal ulcers.
Possible Side Effects
Possible side effects may include lack of appetite, vomiting, central nervous system (CNS) disorders, such as epilepsy or dizziness. Possible allergic reactions may include facial swelling, hives, scratching, sudden onset of diarrhea and vomiting. Shock, seizures, pale gums, cold limbs or coma are other signs of an allergic reaction. Please contact your veterinarian immediately if you notice any of these symptoms.
Drug & Food Interactions
Consult your veterinarian before using this ciprofloxacin as it may interact with vitamins, supplements, and other medications.
Precautions
Do not use in animals hypersensitive or allergic to ciprofloxacin or other quinolone antibiotics and/or sulfonamides. This medication should also not be used in breeding, pregnant or lactating animals. Use with caution in pets with kidney or liver disease. To avoid cartilage damage, treatment for large- and giant-breed dogs may need to wait until 12 to 18 months of age, respectively. Quinolones are also contraindicated in patients hypersensitive to them.

This drug is FDA-approved for human use. However, it is common practice for veterinarians to prescribe such drugs for use in dogs, cats and horses.
NOTE: For Generic Medications, picture displayed may not depict actual product. Generic medications may vary from one order to the next by size, color and shape depending on manufacturer. Customers may receive the same drug under the name Cipro.
Ingredients
Ciprofloxacin.
Recommended Dosage
Use this medication according to your veterinarian's instructions as they will be able to determine the appropriate dose and frequency.
Storage Instructions
Store at temperatures from 68° - 77°F.
FAQ
What is Ciprofloxacin used for?
This medication is used to treat eye infections. Ciprofloxacin belongs to a class of drugs called quinolone antibiotics. It works by stopping the growth of bacteria.
How long should I give my pet Ciprofloxacin?
Continue treatment for the full amount prescribed. Consult with your veterinarian for any questions you may have.