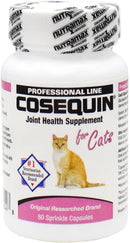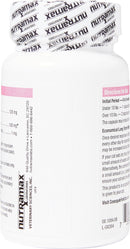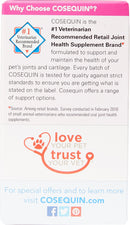 Healthy articular (joint) cartilage is crucial to joint utility. Cosequin helps support cartilage production and protect existing cartilage from breakdown. The only joint health supplement brand shown effective, safe, and bioavailable in published, controlled U.S. studies, Cosequin is manufactured following standards similar to those practiced by the pharmaceutical industry. Cosequin has been proven safe in cats. Cosequin, a nutritional supplement, safely and effectively provides joint cartilage support while maintaining your cat's comfort level. Some veterinarians also recommend Cosequin to help support urinary bladder health.
Key Benefits
#1 Veterinarian recommended joint health supplement
Cosequin helps support and maintain the health of your cat's joints and cartilage and can also help support urinary bladder health
Supports cartilage production and protects existing cartilage from breakdown
Use Cosequin to help your pet be healthy to jump, pounce, and play
Great for cats of all sizes
Precautions
Store in a cool, dry area. Keep out of reach of children.
Ingredients
Each Capsule Contains Glucosamine Hydrochloride* Minimum (125 mg), Sodium Chondroitin Sulfate* Minimum (100 mg), Manganese Minimum (1 mg**). *Cosequin Contains Fchg49 Glucosamine and Trh122 Sodium Chondroitin Sulfate, Nutramax Laboratories Proprietary Veterinary Researched Specifications. Reported On A Hydrous Basis. ** from Manganese Ascorbate.
Feeding Instructions
| Weight | Initial Period (4 - 6 Weeks) Daily Feeding |
| --- | --- |
| UNDER 10 LBS | 1 capsule sprinkled on food |
| OVER 10 LBS | 2 capsules sprinkled on food |
Once the desired response is obtained, capsules may be given every other day for maintenance. The number of capsules given may be increased at any time depending on your cat's needs.