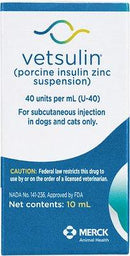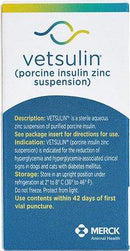 Vetsulin (porcine insulin zinc suspension) is the only FDA-approved veterinary product for the treatment of diabetes mellitus in both dogs and cats. It's prescribed to help control your pet's glucose levels and alleviate the unpleasant symptoms of diabetes. Vetsulin comes in the form of a sterile, injectable porcine insulin zinc solution, and may help your pet to feel better.
Uses
Vetsulin is indicated for the reduction of elevated blood sugar and associated signs in dogs and cats with diabetes mellitus. Vetsulin is supplied as a sterile injectable porcine insulin zinc suspension.
Possible Side Effects
The most common insulin-related side effect is low blood sugar (hypoglycemia) with symptoms that include; lethargy, staggering gait, seizure or coma. Contact your veterinarian immediately if your pet has a medical problem or side effect from Vetsulin therapy. Other side effects may occur. Talk to your veterinarian about any side effect that seems unusual or bothersome to your pet.
Drug & Food Interactions
Vetsulin can be given with other medications, but your veterinarian may adjust your dose depending on insulin requirements. Progestogen and glucocorticoids should be avoided while taking Vetsulin, as they may counter the effect of insulin. Talk to your veterinarian about any other prescriptions, over the counter medications, vitamins, minerals and herbal products your pet is taking before using Vetsulin.
Precautions
Seek emergency veterinary medical attention if your pet experiences difficulty breathing, swelling of the lips, tongue, or face, or hives, as these may be a sign of an allergic reaction.