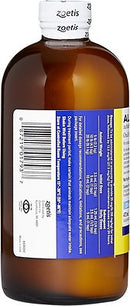 Albon is an oral liquid prescribed to both cats and dogs, in order to treat a variety of bacterial infections. A single daily dose gives rapid and sustained therapeutic blood levels for up to 24 hours, and comes in a tasty, custard-flavored liquid that makes it easier than ever to give your pet the treatment they need. This medication is also available in an easy-to-feed tablet form.
Uses
Albon (sulfadimethoxine) is effective for treating a wide range of bacterial infections commonly encountered in dogs and cats. It is indicated for use in dogs and cats with respiratory, genital and urinary tracts and soft-tissue infections. It is also indicated for treating dogs with bacterial enteritis associated with coccidiosis.
Possible Side Effects
This medication can cause crystals in your pets urine but sickness can be prevented by keeping your pet well-hydrated. If animals take Albon Liquid 5% chronically, it can cause dry eye or keratoconjunctivitis sicca (KCS). Always stop using Albon Liquid 5% and consult with your veterinarian if your pet's eyes appear red, inflamed, or infected.
Drug & Food Interactions
Albon (Sulfadimethoxine) is not effective in viral or rickettsial infections, and as with any antibacterial agent, occasional failures in therapy may occur due to resistant microorganisms. The usual precautions in sulfonamide therapy should be observed.
Precautions
During the treatment period, make sure that pets maintain adequate water intake. If animals show no improvement within 2 or 3 days, reevaluate your diagnosis. Albon should not be used in dogs or cats with marked liver damage, blood dyscrasias, or in those with a history of sulfonamide hypersensitivity.