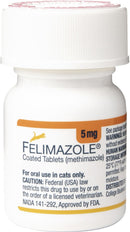 Felimazole treats feline hyperthyroidism, a commonly diagnosed disease in senior cats. The disease results in excess levels of thyroid hormone being produced in the thyroid gland. Symptoms can include weight loss, increased thirst and urination, vomiting, and excess activity.
Uses
Felimazole Coated Tablets (methimazole) are indicated for the treatment of hyperthyroidism in cats.
Possible Side Effects
Side effects usually occur during the first three months of treatment. They may include loss of appetite, vomiting, and lethargy. These typically occur within the first two weeks of treatment and may eventually stop even with continuation of treatment. Less common side effects are yellowing of the gums, skin, or eyes (jaundice) which may signify liver problems. Itching of the face, scratching, or increased bleeding tendencies may occur.
Drug & Food Interactions
Do not use in cats with hypersensitivity to methimazole, carbimazole or the excipient, polyethylene glycol. Do not use in cats with primary liver disease, renal failure, autoimmune diseases, hematological disorders or coagulopathies.
Precautions
Use of Felimazole Tablets in cats with renal dysfunction should be carefully evaluated. Reversal of hyperthyroidism may be associated with decreased filtration rate and a decline in renal function, revealing underlying renal disease.
Ingredients
Methimazole
Instructions
Recommended Dosage
Use this medication as directed by your veterinarian.
Storage Instructions
Store at controlled room temperature 77°F with excursions between 59°-86°F permitted. Keep the container tightly closed in order to protect from moisture.
FAQ
What is hyperthyroidism?
Cats with hyperthyroidism have a thyroid gland that is producing excessive amounts of thyroid hormones. This causes a dramatic increase in the body's metabolic rate.
What do I need to know about Felimazole Coated Tablets?
Felimazole Coated Tablets contain the active ingredient methimazole and are given to your cat every day to block the production of thyroid hormones.
How do I give Felimazole Coated Tablets to my cat?
Follow the instructions given by your veterinarian. Felimazole Coated Tablets are best given directly to your cat, but the small, sugar-coated tablets can also be hidden in the food.
What should I do if I forget to give a tablet?
Speak to your veterinarian. Do not give a double dose next time. If your cat is due to have a monitoring blood test within a couple of days of missing a tablet, make sure you let your veterinarian know as it could affect the blood results.